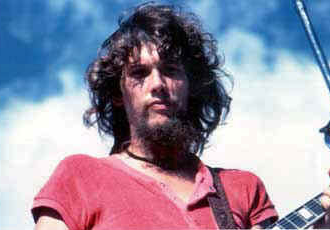 STEVE GAINES
September 14, 1949 to October 20, 1977
COD: Plane Crash
"Someday we are all going to be in his shadow, " stated Ronnie Van Zant about his new band member Steve Gaines. Gaines was truly an astonishing talent as the video below shows. He not only was a virtuoso guitar player, but he had a soulful voice, and was an excellent songwriter. Steve co-wrote the song performed below. He infused Lynyrd Skynyrd with a new energy. His talents would not have eclipsed that of the other's, as Van Zant concluded, because they were such a compliment to the rest of the band's strengths. Lynyrd Skynyrd's final album, and only one featuring Steve Gaines, was Street Survivors. Its brilliance stands as a sad testament to what might have been.
Website Design and Video by "Death2UR Productions LLC"
This site is protected under both U.S. Federal copyright law and international treaties. No part of this work, including text, look and feel, layout, be reproduced or copied in any form or by any means. We went to great lengths to ensure that we have not infringed on any copyrights, however if we have indeed infringed on any copyrights please let us know via e-mail and we will remove it or give credit to the originator.