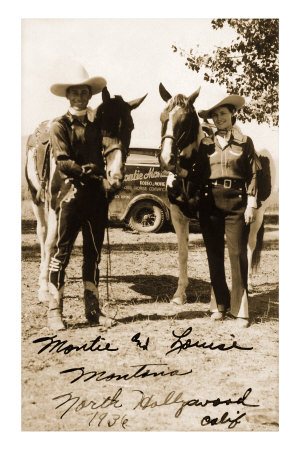 Montie and Louise...

Buy This at Allposters.com

Roy Rogers once called Montie Montana "the greatest trick roper of his time." Montana once even lassoed president Dwight Eisenhower during his Inaugural parade. Along with his wife Louise, Montie Montana performed in hundreds of rodeos and also did trick work and stunts in a number of films. They are buried side-by-side in Oakwood Memorial Park in Chatsworth, California.
Website Design and Video by "Death2UR Productions LLC"
This site is protected under both U.S. Federal copyright law and international treaties. No part of this work, including text, look and feel, layout, be reproduced or copied in any form or by any means. We went to great lengths to ensure that we have not infringed on any copyrights, however if we have indeed infringed on any copyrights please let us know via e-mail and we will remove it or give credit to the originator.