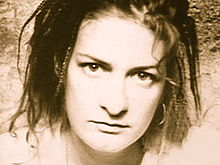 Mia Zapata was the lead singer for the Seattle punk rock band "The Gits." The group had a loyal uderground following and was beginning to make national noise when Mia was brutally raped and murdered one night on her way home from a friend's house. The killer was not caught until nearly ten years later when his DNA matched evidence found at the crime scene. Mia died of strangulation, but the medical examiner said that had she not been strangled she would have died from the internal injuries she received from her severe beating. The killer was sentenced to 36 years in prison. To the right is just a very short clip of Mia Zapata at her best.
Website Design and Video by "Death2UR Productions LLC"
This site is protected under both U.S. Federal copyright law and international treaties. No part of this work, including text, look and feel, layout, be reproduced or copied in any form or by any means. We went to great lengths to ensure that we have not infringed on any copyrights, however if we have indeed infringed on any copyrights please let us know via e-mail and we will remove it or give credit to the originator.