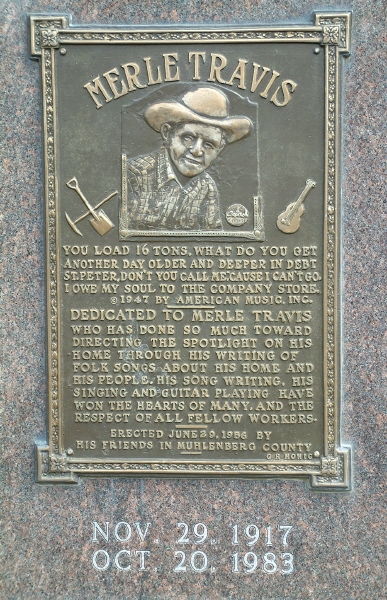 Chet Atkins named his daughter Merle Atkins. That gives you some indication of the pioneering guitar talents of Merle Travis. "Mister Guitar" himself held Merle in the highest regard and Travis' influence is evident in Chet Atkins' playing. Merle Travis was known for his syncopated style of guitar playing which became known later as "Travis Picking." This monument in Ebenezer Cemetery in Beech Creek, Kentucky is not an actual grave. Merle Travis died of a heart attack and was cremated. His ashes were scattered nearby. And although Tennessee Ernie Ford is associated with "Sixteen Tons" it is Travis' song and seen in the above video, no one does it better.
Website Design and Video by "Death2UR Productions LLC"
This site is protected under both U.S. Federal copyright law and international treaties. No part of this work, including text, look and feel, layout, be reproduced or copied in any form or by any means. We went to great lengths to ensure that we have not infringed on any copyrights, however if we have indeed infringed on any copyrights please let us know via e-mail and we will remove it or give credit to the originator.