"Do me a favor, live each day to the fullest.
Tomorrow isn't promised to anyone."
- Kirby Puckett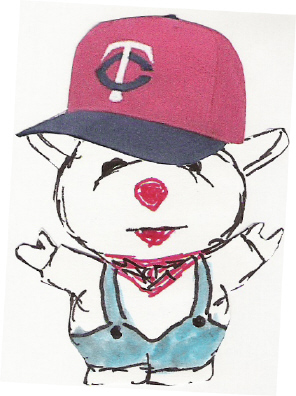 Kirby Puckett certainly wasn't the first, nor will he be the last, to speak these words. He is one of the very few, however, who actually lived their entire life by that credo. He really didn't even need to speak the words. Anyone who had ever met him, or had just seen him play, knew that was how he lived. Kirby Puckett was never without that huge, genuine grin. He didn't look or act like your typical professional athlete. He was doing something that he loved, that he had always dreamed of doing, and never took it for granted. It was a childlike enthusiasm that drew everyone to him and when he passed away it was what drew thousands to the Hubert H Humphrey Metrodome in Minneapolis to leave memorials in his honor.
The memorials were numerous and varied, but what was truly amazing was the number of items left by youngsters, people many of whom were not even born yet when Kirby and the Twins won their last World Series in 1991. These tokens were fashioned with crayons on cardboard or even just small pieces of paper with something crudely jotted down. Everyone just had to make known how they felt about Kirby. One young man, approximately 8 years old commented to a news crew how he had met Kirby courtside at a Timberwolves' game. He said that Kirby Puckett had taken the time to talk to him like a person, "something you don't see athletes do these days anymore." (Kirby Puckett was cremated and his ASHES are in the possession of a family member)
Website Design and Video by "Death2UR Productions LLC"
This site is protected under both U.S. Federal copyright law and international treaties. No part of this work, including text, look and feel, layout, be reproduced or copied in any form or by any means. We went to great lengths to ensure that we have not infringed on any copyrights, however if we have indeed infringed on any copyrights please let us know via e-mail and we will remove it or give credit to the originator.