In the film "Planes, Trains, and Automobiles" there is a scene where Steve Martin's character attacks John Candy's character with a vicious, unrelenting tirade. John Candy's reaction is absolutely heart-wrenching. And again at the film's conclusion, Candy is standing alone at a train station and we cannot help but want to take him home and love him. The film is full of Candy's great comic touches, but it was the genuine pathos that he was able to display that makes it apparent that his untimely death not only robbed us of a great comedian, but also, a truly fine actor.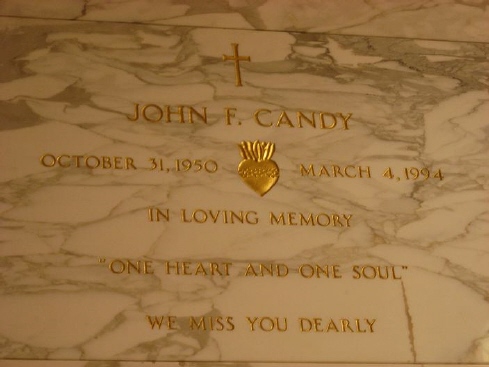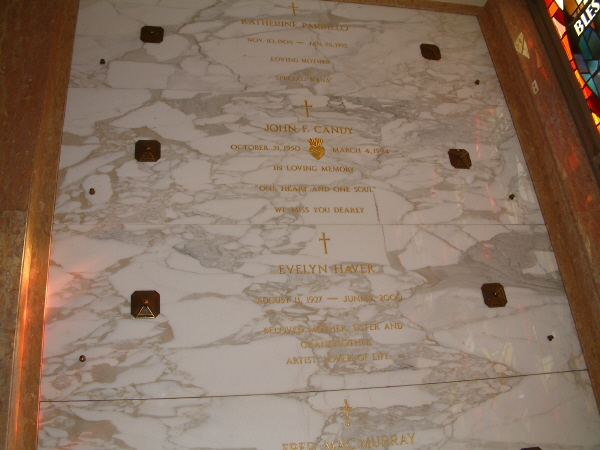 HOLY CROSS CEMETERY, CULVER CITY, CALIFORNIA
John is interred two crypts up from "My Three Son's" star Fred MacMurray.

Related Pages:
Website Design and Video by "Death2UR Productions LLC"
This site is protected under both U.S. Federal copyright law and international treaties. No part of this work, including text, look and feel, layout, be reproduced or copied in any form or by any means. We went to great lengths to ensure that we have not infringed on any copyrights, however if we have indeed infringed on any copyrights please let us know via e-mail and we will remove it or give credit to the originator.