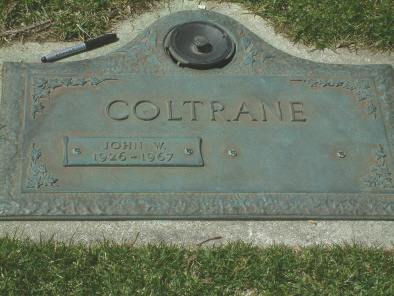 They say the good die young and that certainly applies to Coltrane. Listening to his body of work with Miles and then with his quartet were some the most intense musical experiences of my life. As close to jazz nirvana as it gets. If you were to put jazz in a hypodermic needle and inject it in your veins and let it course through your brain, that would be Coltrane on the sax. We found his grave one sunny, Saturday afternoon at Pinelawn Memorial Park and Cemetery in Farmingdale, New York. The marker is the same as all the others surrounding him. One would never know that this plain marker commemorates such an amazing musician. It is probably befitting since his body of work, I think, speaks for itself and is forever captured for us to enjoy. - Paul
Website Design and Video by "Death2UR Productions LLC"
This site is protected under both U.S. Federal copyright law and international treaties. No part of this work, including text, look and feel, layout, be reproduced or copied in any form or by any means. We went to great lengths to ensure that we have not infringed on any copyrights, however if we have indeed infringed on any copyrights please let us know via e-mail and we will remove it or give credit to the originator.