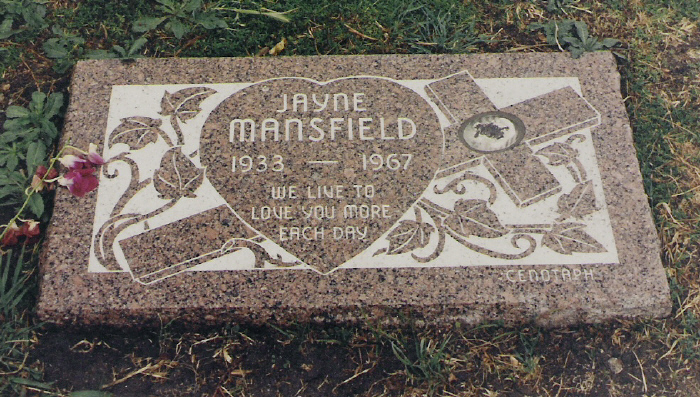 HOLLYWOOD FOREVER CEMETERY, HOLLYWOOD, CALIFORNIA, GARDEN OF LEGENDS
ACTUAL GRAVESITE IS IN FAIRVIEW CEMETERY IN PEN ARGYL, PENNSYLVANIA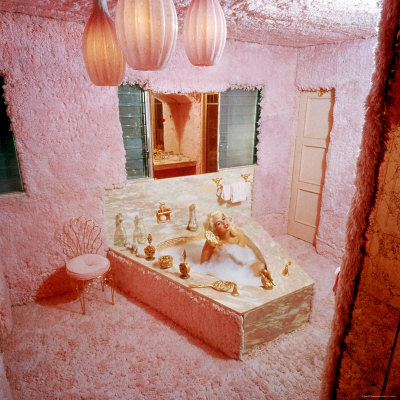 Sex Symbol Actress Jayne Mansfield Taking a Bath in the Garish Pink Shag Carpet covered bathroom Premium Photographic Print
Grant, Allan
Buy at AllPosters.com

Jayne Mansfield was killed when the car she was a passenger in slammed into the rear of a semi-tractor trailer. Despite Urban legend, she was not decapitated. The myth arose because, at the time, Mansfield was wearing a wig and it flew off in the collision and appeared to casual onlookers as though her head had been severed.
Website Design and Video by "Death2UR Productions LLC"
This site is protected under both U.S. Federal copyright law and international treaties. No part of this work, including text, look and feel, layout, be reproduced or copied in any form or by any means. We went to great lengths to ensure that we have not infringed on any copyrights, however if we have indeed infringed on any copyrights please let us know via e-mail and we will remove it or give credit to the originator.