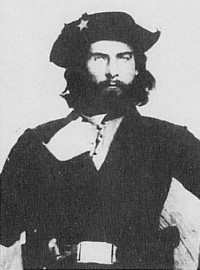 "BLOODY BILL" ANDERSON
Rode with William C. Quantrill and his raiders. When Quantrill was killed by Union troops Anderson commanded the guerilla unit which included the James brothers and Cole Younger. Anderson was with Quantrill during the infamous Lawrence, Kansas massacre where 150 civilian men were murdered and most of the homes in the town burned to the ground. Even the Confederate Army began to distance itself from the "bushwackers" after the massacre.
Website Design and Video by "Death2UR Productions LLC"
This site is protected under both U.S. Federal copyright law and international treaties. No part of this work, including text, look and feel, layout, be reproduced or copied in any form or by any means. We went to great lengths to ensure that we have not infringed on any copyrights, however if we have indeed infringed on any copyrights please let us know via e-mail and we will remove it or give credit to the originator.